Connecting readers with books and authors during the coronavirus outbreak and this period of social distancing is more important than ever.  Across Penguin Random House, we are hosting a variety of virtual events each day and will make sure to keep you updated with the latest!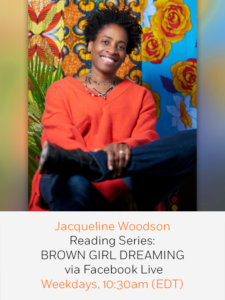 Join Jacqueline Woodson as she reads her National Book Award-winning BROWN GIRL DREAMING (Nancy Paulsen Books) every week day at 10:30 am (EST) on Facebook Live.
Raised in South Carolina and New York, Woodson always felt halfway home in each place. In BROWN GIRL DREAMING, with her vivid poems, she shares what it was like to grow up as an African American in the 1960s and 1970s, living with the remnants of Jim Crow and her growing awareness of the Civil Rights movement. Touching and powerful, each poem is both accessible and emotionally charged, each line a glimpse into a child's soul as she searches for her place in the world. Woodson's eloquent poetry also reflects the joy of finding her voice through writing stories, despite the fact that she struggled with reading as a child. Her love of stories inspired her and stayed with her, creating the first sparks of the gifted writer she was to become.
Woodson is the bestselling author of more than two dozen award-winning books. Her New York Times–bestselling memoir, BROWN GIRL DREAMING, received the National Book Award in 2014. Woodson is also the 2018–2019 National Ambassador for Young People's Literature and the recipient of the 2018 Astrid Lindgren Memorial Award and the 2018 Children's Literature Legacy Award. In 2015, she was named the Young People's Poet Laureate by the Poetry Foundation. She lives with her family in New York.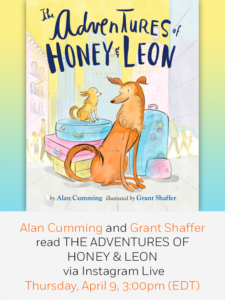 In a Read Together, Be Together virtual storytelling event, Alan Cumming and Grant Shaffer read THE ADVENTURES OF HONEY & LEON (Random House Children's Books) on Instagram Live (www.instagram.com/alancummingsnaps ) on Thursday, April 9, 3:00pm (ET).
Actor and New York Times bestselling author Alan Cumming and artist Grant Shaffer imagine what their dogs do when they're not around—and it's no surprise that the dogs aspire to lead lives as action-packed and glamorous as their dads'!
Alan Cumming is an acclaimed theater and film star with numerous accolades on both sides of the pond. He won a Tony Award and a Drama desk award for his performance of the Emcee in Cabaret along with New York Free Press, Outer Critics Circle, Theater World, and New York Public Advocate's awards. He is the author of the New York Times bestselling memoir Not My Father's Son. The Adventures of Honey and Leon is his first picture book.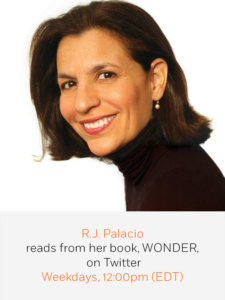 R.J. Palacio will read from her #1 New York Times bestselling book WONDER (Random House Children's Books) via #WONDERreadaloud and on Twitter @RJPALACIO, every week day at 12:00pm (EDT).
Over 8 million people have fallen in love with WONDER and Auggie Pullman, the ordinary boy with the extraordinary face, who inspired a movement to Choose Kind. August Pullman was born with a facial difference that, up until now, has prevented him from going to a mainstream school. Starting 5th grade at Beecher Prep, he wants nothing more than to be treated as an ordinary kid—but his new classmates can't get past Auggie's extraordinary face. A hero to root for, Auggie is a diamond in the rough who proves that you can't blend in when you were born to stand out.
R.J. Palacio lives in NYC with her husband, two sons, and two dogs. For more than twenty years, she was an art director and graphic designer, designing book jackets for other people while waiting for the perfect time in her life to start writing her own novel. But one day several years ago, a chance encounter with an extraordinary child in front of an ice cream store made R. J. realize that the perfect time to write that novel had finally come. WONDER was her first novel.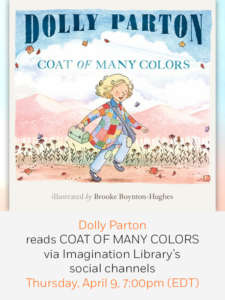 Dolly Parton's weekly "Goodnight With Dolly" series continues as she reads her book COAT OF MANY COLORS , illustrated by Brooke Boynton Hughes (Grosset & Dunlap) on Thursday, April 9, at 7:00pm (ET) on YouTube and Imagination Library's official social channels on Facebook, Twitter and Instagram.
"Goodnight With Dolly" features the award-winning singer- songwriter reading a series of Imagination Library books all carefully chosen for their appropriate content at this moment in time.
Dolly lends the lyrics of her classic song "Coat of Many Colors" to this heartfelt picture book for young readers. Her rural upbringing in the Smoky Mountains of Tennessee provides the backdrop for this special picture book that tells the story of a young girl in need of a warm winter coat.
"This is something I have been wanting to do for quite a while," Dolly Parton said, "but the timing never felt quite right. I think it is pretty clear that now is the time to share a story and to share some love. It is an honor for me to share the incredible talent of these authors and illustrators. They make us smile, they make us laugh and they make us think."