A few weeks ago Penguin Random House Education ventured out to Brooklyn, New York to hand deliver our new Classroom Libraries directly to P.S. 273 Wortman. The Brooklyn school reached out to us to help support their students' literacy growth with Classroom Libraries earlier this summer. When we learned they had no way to move books into the building, we gathered a small team of PRH volunteers (pictured above, from left to right): Travis Temple, Director, Sales PreK-12 Education, Sean Williams, Manager, Sales Operations, and Ayeshia Meite, Sales Assistant, Education. The team made the journey out to the school on a rainy Monday morning to receive the shipment and unpack the books into the building.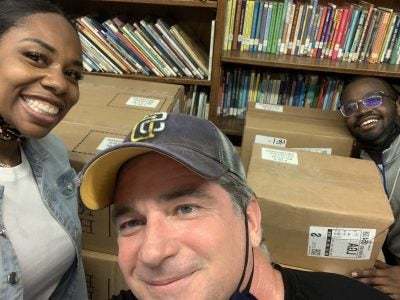 Ayeshia, Travis, and Sean take a selfie with the libraries
PRH Education launched Classroom Libraries earlier this year to support students, teachers, and schools by promoting choice and volume in reading, and developing a reading culture both in and out of the classroom. In collaboration with renowned educator and literacy expert Laura Robb, we developed diverse and inclusive classroom libraries and genre libraries for grades PreK-8. These Classroom Libraries were created because PRH Education is dedicated to fostering a universal passion for reading, and we know the key to learning to read and reading proficiently and with joy is access to books.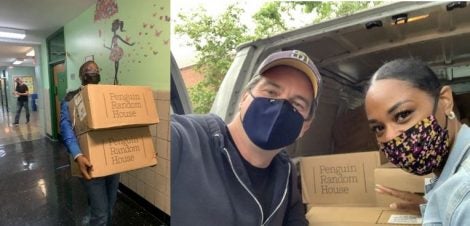 After connecting directly with the principal at P.S. 273, the order was carefully put together to fulfill their students' needs for books that featured both diversity and inclusion. The school ended up choosing a couple of the independent reading libraries, moving forward with the Grade PreK Independent Reading Classroom Library, Grade 3 Independent Reading Classroom Library, Grade 4 Independent Reading Classroom Library, and Grade 5 Independent Reading Classroom Library. All independent reading libraries include a comprehensive Educator Handbook written by Laura Robb, and 350 of our carefully curated classic and contemporary authentic texts.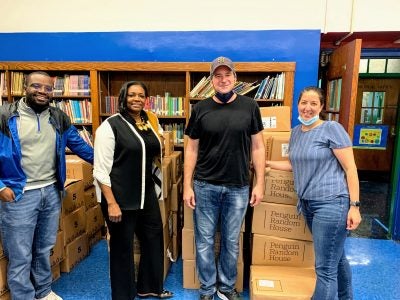 The PRH team in the library of P.S. 273 with staff
With access to Covid-19 relief funding schools are looking ahead at how they can bring more books into the classroom and provide their students with the books and resources they need to succeed and build their passion for reading. A second delivery will be made to P.S. 273 later this month, and the team at PRH is thrilled to return and personally place these books into the hands of educators and students who need them.
Learn more about Classroom Libraries here.