As part of an inaugural commemoration of Juneteenth, the National Council of Teachers of English and Penguin Random House Education partnered to support celebrations held by The Black Caucus of NCTE, a leading advocacy group of Black English language arts educators and scholars, who played a pivotal role in the celebrations. Penguin Random House Education donated a $10,000 grant and over 1,500 books to support this effort. The Black Caucus of NCTE is comprised of four regions in the U.S.; key to this donation was the fact that each region hand-selected the specific books it felt best served their individual communities.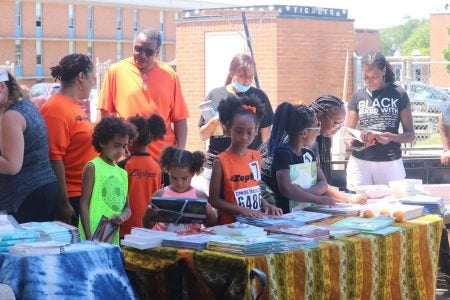 Since Juneteenth is an occasion for reflection and education, the selected titles helped to amplify stories that highlight Black joy, but not in a way that disregards the harsh realities of racism and injustice; these stories ultimately helped local readers to engage with the Black experience in America in a way that is full, balanced, and truthful. Juneteenth, also known as Freedom Day or Jubilee Day, is marked by celebrations, family gatherings, picnics, and readings of the Emancipation Proclamation as a measure of progress against freedom.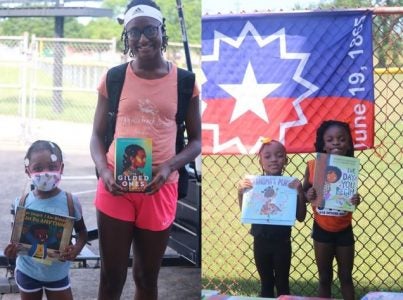 One member of the NCTE Black Caucus, Ayanna F. Brown, brought the books to her Chicago event (Midwest region) during the Zephyrs track meet. Books were laid out for parents and children to browse, flip through, and take home with them.
"The history of literacies and Black people are central to the emancipation of the mind which also lead to the emancipation of the body. Juneteenth 2021 and the partnership with Penguin Random House, NCTE, and the Black Caucus enable us to collectively revisit the importance of literacies through texts but also the value of celebrating Black authors and the stories about Black life and culture as dynamic and amazing aspects of American society." –Ayanna F. Brown, Ph.D. Elmhurst University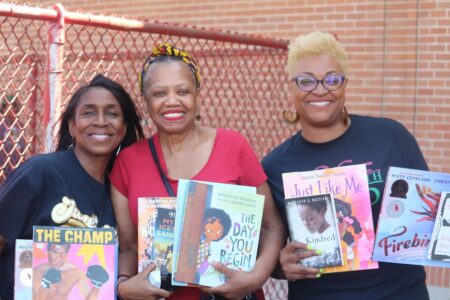 Stay tuned here for more stories from this year's celebration. Browse all the elementary and secondary books that were donated and can be enjoyed year-round.