By Rebecca Tseng
Help kids become reading heroes with DK Super Readers, the newly launched leveled reader series that brings the wonderful world of nonfiction to life!
DK Super Readers, for kids ages 3 to 11, is an evolution of the ever-popular DK Readers series, which has sold over 600,000 copies in its lifetime. From fascinating stories about animals to thrilling historical events and mind-blowing scientific discoveries, DK Super Readers explores a wide range of captivating topics. With new, vibrant illustrations and exciting tales that cover curriculum-aligned subjects, these books help kids unlock the ultimate superpower: reading! 
Watch the DK Super Readers Series Trailer!
How Does Nonfiction Boost Reading Fluency?
In a recent study from Stanford University, researchers found reading fluency among United States second and third-graders to be around 30 percent below average.* Since the onset of the pandemic and the remote learning that followed, students have struggled to develop core reading skills, with the effects of learning loss still ever-present. Educators, parents, and kids need resources that make learning exciting while building knowledge and progressing language acumen.
DK Super Readers integrates science and social studies topics to help kids develop vital nonfiction reading skills. Nonfiction reading has been proven to improve cognitive knowledge acquisition, concentration, information gathering, and critical thinking. With topics from animal habitats to deep sea exploration to the technology of artificial intelligence, DK Super Readers fully immerse kids in the realm of nonfiction, encouraging a love for reading and expanding their knowledge of the world around them. 
For more on the making of this nonfiction series, check out series editor Jennifer Emmett's article about the creation and successful launch of the DK Super Readers. 
Leveling Up Each Reader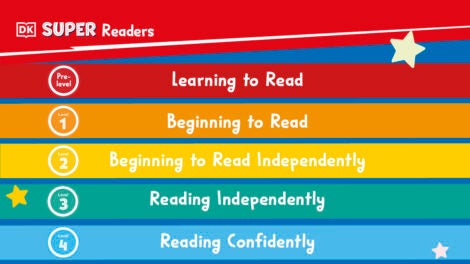 Whether a child is a beginner or a more advanced reader, DK Super Readers has a book for everyone. With five levels from Pre-level to Level Four, DK Super Readers perfectly supplements core literacy programs and gradually introduces reading skills. 
Pre-level books combine simple vocabulary and sentence structures with colorful illustrations to support comprehension. As the levels move up, kids encounter longer sentences, more detailed information, and expanded subject vocabulary. For advanced readers, Level 4 books offer rich narratives that challenge and hone nonfiction skills. Glossaries and quizzes at the back of each book further encourage knowledge retention and reinforce newly learned vocabulary. 
Each of the DK Super Readers is carefully aligned to the MetaMetrics®: The Lexile Framework for Reading to help educators personalize learning by providing the best-suited books for kids across different abilities. The DK Super Readers series also includes six English-Spanish bilingual titles for Pre-level and Level 1 so kids can actively learn either target language. With DK Super Readers, new and emerging readers can confidently choose books that boost academic progress and success.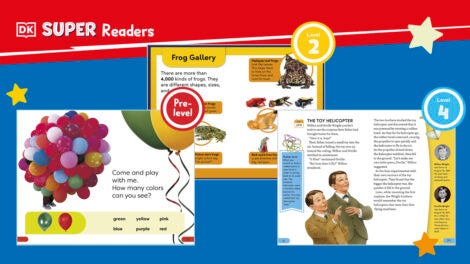 Dive Deeper Into the Adventure with Free Resources
DK Super Readers is here to support educators! With the DK Super Readers' dedicated website, you can browse a vault of FREE supplementary resources. Simply scan the QR code on the back of every book or visit the website to explore printable activity sheets, bookmarks, comprehension quizzes, mini-projects, guides, and more. These resources are great for use in the classroom or for homework.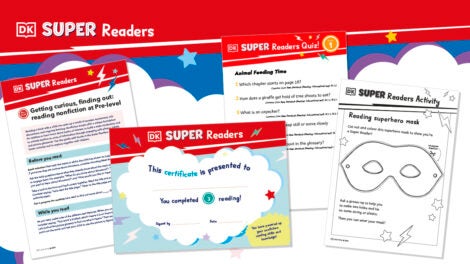 Get ready to embark on an adventure with DK Super Readers and unlock the superpower of reading. One hundred twenty five DK Super Readers will be published throughout 2023, with more to come next year. Reading heroes, assemble!
*Domingue, B.W. Et al. "Changing Patterns of Growth in Oral Reading Fluency During the COVID-19 Pandemic" March 2021